Dear Gardening Friends,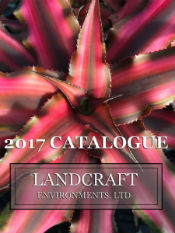 2016 was an exciting year for us here at Landcraft and 2017 promises to be another year of exploration, innovation,creativity and a generous amount of fun. New plants are always a pleasure to introduce and see used in creative ways. This year we are offering a line of Alstroemeria with large flowers on compact plants, perfect for use in containers. Also we have some new Angelonia, the Super series, which feature larger plants in height as well as flower size - perfect for borders and cut flower gardens. Another excellent plant for borders and the cut flower garden are the new Salvia splendens varieties wonderful flower colors, growth habits and extended bloom time. We have added a few more exotic looking Echeveria as the succulent craze is still going strong. The Succulent Pizzas are a new item -available in 3 different sizes: we have planted up deep terra cotta saucers with a delicious assortment of colorful and textural succulent "toppings". For all the discerning plant people out there we have also added a Collector's Corner section which consists of an assortment of weird and wild plants that we love. Some of these plants are quite rare and in limited production and should be cared for as you would care for a loving pet.
We have reorganized some of the Hardy Plants back into our General Listing do to the fact that our milder Zone 7 here at the nursery is not the case for many of our customers in colder zones and therefore the plants would not be hardy for them. So if you don't see a plant that used to be in Hardy please look in the General Listing section.
New Zealand was the big trip for us this year; we spent an amazing 3 weeks touring gardens of both the north and south islands. Although many of the gardens resemble superb traditional gardens that you would find here in the USA or in Europe, New Zealand's native plant gardens are extraordinary. For the first time in a while we did a number of long weekends touring gardens here in the Northeast, some gardened by longtime friends that we hadn't visited in a while and others were on our list of must see gardens.
Our Furniture line is growing; we have added benches, tables, more chairs, plant stands, stools and plant labels all made from sustainably grown Teak. We will be sending out additional information about these new items throughout the season, and updating the website accordingly. The Landcraft Pot from Seibert & Rice is now available for shipping either directly from S & R or it can also be purchased here at the nursery.
Once again thank you for your continued patronage, support, and enthusiasm. We look forward to supplying you with beautiful, unusual, quality grown plants and distinctive furniture.
Dennis, Bill and the staff at Landcraft